Welcome to Town of Gate City
Frances Perry
Mayor of Gate City
(276) 690-6138 / Contact me

Save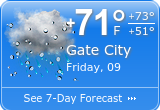 Who We Are
Located in the Mountains of Southwest Virginia and home of mighty Blue Devils!"

Gate City is the welcome center to Southwest Virginia and beyond."

We have a population of 2,034 and serve as the seat of Scott County's government."

Rich in Pioneer and Native American History."

Home of Moccasin Gap and a part of the Daniel Boone Wilderness Trail and Crooked Road."

We have a variety of unique antique stores, family operated retail stores, food boutiques, parks, old timey hardware store, and a golf course."

Minutes away from the legendary Carter Fold Performance Center and Creation Kingdom Zoo."

Free weekly summer concerts, BBQ contest, music festivals, car shows, Halloween event, and Christmas Parade."

Located within Tri-Cities Metropolitan Area: Kingsport, TN (10 miles), Johnson City, TN (20 miles), Bristol, VA (30 miles). The combined population is 500,538."

We have beautiful vistas, top quality education, and small town charm!"
What are they saying?
"I luv it here. Its a very good & safe place to raise your kids."
"This is a great place to live.!!"
"I miss living near this town! Living there was the first time in my life that I actually felt like I was at home."
"Gate City and Scott Co. Are both learning how to market the area for tourism. I think it a great change because it is a beautiful area to live."
"Family has been here since early 1800's. Must be a great place to live"
"I was raised here. Went to school here. This is a great place to live!!"
"I love our town! Its home and will always will be!"
"Gate City will always be my hometown!"
"Such a peaceful beautiful town!"
"OMG …love all the change I see to my little home town!!!……."
"Awwww, how beautiful, my home town!……"
"Home of the mighty Gate City Blue Devils. Go Big Blue!! …… "
"Love visiting Gate City. So relaxing! ….."
"I love this town ! Home sweet home!……"
"My Home ,,, I love it ,,, and I'm "Staying! ……"
I'll always Love Gate City ,,, Rain , Snow , Sleet , Or Sunshine ! My Home town and I'm proud it's where I grew up . Big Blue Forever!
HOMESICK!!! Can not wait till I retire!
I love Gate City my home town
A sweet country town close to all our hearts. A place for children to grow up to love the things of country life where warmth and friendship all found.
Love this place it's where I was born n raised… My hometown… A lot great Times and great memories here in Gate City Va
I love gate city the people are so nice!! Gate city middle is a great school my kids enjoyed going to that school!